For my latest homeschool group, I put together a study of Mozart. So for 8 weeks we will be learning about this amazing composer and becoming acquainted with some of his works. I'm even planning a fun study of his operas! I thought I would share a quick look at some of what we've been doing! I have a smaller group this time - only 7, but they are a great bunch of kids and have been very engaged throughout the first two classes.
We started out with a brief look at the life of Mozart. As a visual aid, I put together a word wall.
This is simple (and easy to put together), but has worked extremely well for all the visual learners. I tried to keep it simple hoping to reinforce a few main details that the kids will remember.
In addition, we have listened to Mozart's music and have started watching some of the episodes of
Little Amadeus
.
This is a wonderful series put together by PBS and although the website seems to no longer exist, the packet of DVDs also includes a CD of lessons plans, coloring pages, activity pages, and posters. It's a fabulous resource which actually could stand on it's own. I chose to use the series as a supplement to our Mozart study.
To introduce the series to my students, I put together a poster board of all the characters.
The pictures of the characters I added to the poster are also available within the lesson plan pages. Before we watched the first episode I decided to use with the first class, I gave the kids a review of the characters. Some of the characters are consistent with the life of Mozart - some created for the series (Countess KissKiss for example!). I wanted to make sure they could distinquish the differences!
One of the other things I wanted to do with this class was some sort of cut and paste activity. Knowing this kids from past classes, I knew they would love it. I thought about putting together a folder of Mozart such as a lapbook but before I could get started,
Joy Morin of Color in My Piano
provided the answer!! I downloaded her Mozart lapbook and couldn't be happier with it!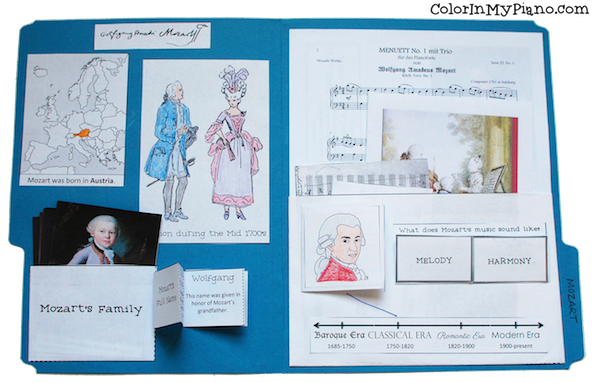 We've had two classes and have slowly been adding "parts" to our folders and the kids have been loving it! Each week, they have asked to show their parents what they've put together. The information Joy has put together is wonderful and very accurate! I have since downloaded a few more (she has 5 for sale as of today and more coming!) and plan to use them with a composer study I'm doing with my regular students!
If you haven't had a chance to check them out, be sure to head over to Joy's site and take a look. I highly recommend them!!